Our promise to our customers. In all that we do, we GUARANTEE our work because we do it right - detailed inspections, following manufacturer's specs, photo evidence - all a part of offering our best to you.
Construction By Mirage Roofing Services
---
Each of our roofing systems honor that  'MIRAGE GUARANTEED' PROMISE. Using prime materials & first-rate workmanship standards.
If a roof is beyond repair, we will not force it. We're not in the business of profiting from customers simply to have a job done.
Simple. If it's MIRAGE DONE, it's MIRAGE GUARANTEED.
---
A moderately-sized, professionally installed roofing job might take only 3 or 4 days. The overall process followed by the roofing crew goes like this:
Remove all existing shingles, deposit them in a roll-off dumpster. Damaged or old valley flashing and drip edging is also removed at this time.
Make minor repairs on the roof if it is in good condition. If not, replace bad wood with new plywood sheathing or 1 x 6 sheathing boards, whichever is applicable to your type of roof.
Install weather dam protection in regions that require it. Weather guard membrane is a synthetic waterproof barrier material designed to prevent water from backing up under the shingles and penetrating through the sheathing, where the moisture can cause severe damage.
Lay down asphalt roofing paper over the roof sheathing. The layer of roofing paper creates an inner barrier against water penetrating into the house.
Apply metal drip edging around the edge of the roof, both the eave sides and gable sides. The metal drip edge is nailed in place over the roofing paper or weather guard.
Where necessary, apply new valley flashing along areas where two roof planes meet.
Apply the tab shingles, starting at the eaves and working upward toward the peak. Where roof vents are being installed, these are installed as the shingles progress toward the peak.
Apply flashing around all areas where leaks might come into the house—against the chimney, around skylights and stack vents, etc. Flashing installation may happen as part of the roofing installation, occurring as the rows of shingles progress upward on the roof deck.
Install the ridge vent. If ridge vents are not practical, the should be other types of roof or gable vents installed to provide air circulation in the attic space.
Complete the final cleanup and haul debris away. Have the installation inspected and approved by a building inspector?
Other Duties and responsibilities as required.
A Roof repair will save money over a full roof replacement. You should expect to have to perform maintenance on a roof. Weather sometimes causes seals to fail, rubber to crack, or creates a problem that if handled quickly can be fixed instead of resulting in a much higher expense.
The 5 Most Common Problem Areas of a Roof System.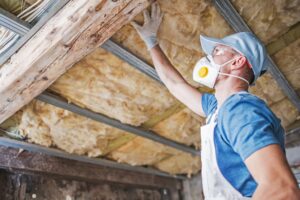 Moisture is the number one cause of problems with your fascia so be sure to look for signs of rot or damage.
Look for cracks, holes, and rot to avoid an easy entrance for water or insects and small animals.
Weather and oxidization are the most common culprits for flashing deterioration but it is possible that flashing can just simply come loose.
It is imperative to keep your gutters doing their job properly as they are highly susceptible to water and debris buildup causing mold and mildew under your roof.
Areas of missing or broken shingles can leave underlying wood susceptible to rotting, holes, and other damage.
Free On-Site Roof Inspections & Thermal Imaging Scan.
Locating the source of a roof leak in your roof system can be just as challenging and daunting as locating your allusive set of car keys or wallet. Roof leaks can be difficult to locate and can often be contributed to by more than one source.
Construction By Mirage uses Flir Technology to find hard-to-find roof leaks.
Infrared technology allows individuals looking for the source of roof leaks to be able to look through the surface of their roof to reveal potential leak sources and trapped moisture within roof assemblies. It allows you to see the roof assembly through a different filter that can reveal potential problems and sources for that elusive leak.
Roofing Services in Las Vegas
We work on all types of projects, including residential, commercial, industrial, distribution, educational, retail and institutional.
Emergency Roofing Service
Severe weather, including rain and snow, won't take the night off just because you're going to bed. A leak is going to happen no matter what your personal schedule may be. Construction By Mirage is available after usual business hours during an emergency?
Commercial Roofing
Many of today's commercial roof choices cool white roofs that not only average 80 percent solar reflective value but also meet the requirements for the Energy Star program. With our energy-efficient roofs, we help businesses qualify for LEED credits.
Home Ventilation Specialists
It is estimated that nine out of ten homes in North America do not have proper attic ventilation, the reason being that most homeowners are unaware that attic ventilation can impact the longevity of their entire home.
Energy Efficient Insulation Contractor
Regulating the temperature inside your home is essential if you want to save money and improve your energy efficiency.