Certifications:
    IICRCA past board member and Secretary of the Executive Committee.
---
IICRC; Master Water Restorer, Master Fire & Smoke Restorer.  AMRT, WRT, CPT, ASD, JWR, CCT, OCT, FSRT, RRT, AMR, MDR, CRR.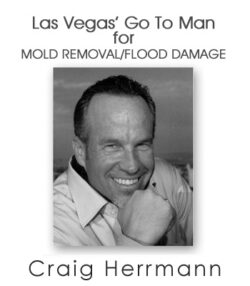 Craig Herrman
Owner/Master Restorer
Experience:    Mold Eliminators & Mirage Building Maintenance & Construction by Mirage (Owner)
    1964 Sycamore Trail, Las Vegas, Nevada 89108 (702) 360-1700
Mold removal, water damage and crime scene restoration as well as demolition of interior and structural buildings and Tenant improvements.
General contractor B license Nevada Lic#59782
Sept. 1, 2002 – Present
Mirage Carpet & Upholstery (Owner)
    1964 Sycamore Trail, Las Vegas, Nevada 89108  (702) 222-1007
Water damage and restoration, carpet cleaning, HVAC cleaning
March 1996 – Present
Accurate Building Maintenance, LLC (Owner)
    3240 S. Arville #D Las Vegas, Nevada 89103 (702) 220-8180
Commercial Janitorial
Employing approx. 160 employees with gross sales of $3. million
Oct. 1, 1999 – Oct. 1 2002
Sold company to partners.
Quality life Marketing, Inc., dba: Quality Cleaning (Owner)
1964 Sycamore Trail #4 , Las Vegas, Nevada 89108  (702) 873-1555
Commercial Janitorial & Flood Restoration and Carpet Cleaning
Employing approx. 100 persons with gross sales over $1.5 million annually
1990 – Sept. 30, 1999 sole owner
Always Cleaning, Inc. (Owner)
2900 Matterhorn, Las Vegas, Nevada 89102
Commercial janitorial
1986 sold 1990' to then partner.
Education

University of Las Vegas, Nevada,Business management(1982)
Craig's Hobbies

Craig's Hobbies: Pilot private, race car driver, camping, hunting, hiking, snowmobile, dancing and enjoy outdoors.  Serve on the board as the president of a local non-profit, New Vista Ranch, for youth & adults whom are developmentally disabled.  My parents are the founders and one of my passions is to continue the dream they started.