For most families, the kitchen is the most heavily used room in the home. So it stands to reason that the kitchen should be a place where everyone is comfortable and happy. A kitchen remodeling job can include a wide variety of changes and updates. These can include new appliances, updated cabinets, beautiful new granite countertops, or a different wall finish (this could be new paint or a different type of wall texture).
---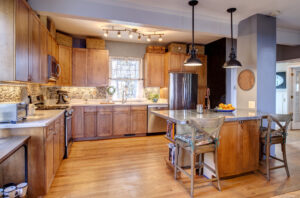 Most contractors can also install new flooring such a travertine or tile, which gives the kitchen a whole new look. Often, the final crowning touch to a kitchen remodel is new lighting. There are so many lighting options available, you are sure to find one that suits your personality and preferences.
---
Outdoor Kitchen Remodel
The construction of an outdoor kitchen is a project that is becoming more and more popular, especially for homes that already have a swimming pool. When you have friends over to relax around the pool, it just makes everything more convenient if your pool, deck and patio area are fully equipped for cooking and entertaining. Having an outdoor fireplace, a full set of appliances, a cooking grill and other amenities right out there where everyone is socializing is very convenient. This also adds good value to your home. Doing this can also allow you turn your current kitchen into a more formal place to have meals and gatherings.
---
Kitchen Cabinetry
At its core, cabinetry & mill-work in any home is what defines its character. It is cabinetry & mill-work that expresses the definition of your kitchen. This with appliances are the crown jewels of you kitchen. You can choose from a wide variety of wood doors in popular woods such as oak, cherry, and maple, or choose low-maintenance but beautiful RTF in wood grains and laminates. In addition, if you would like to add organizers such as roll-out trays. With so many options you will always find what it is you're trying to say with the most used space in your home.
---
Bathroom Remodeling
Bathroom Remodeling & Repair Services will consist of the following jobs or changes made to the bathroom of your home.
---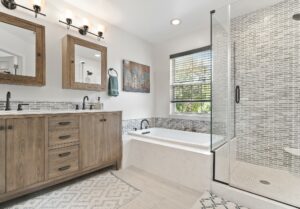 Shower Doors,Wainscoting,Faucets,Shower Heads, Custom Shower Pans, Towel Racks, Vanities, Countertops, Cultured Marble, Granite Surrounds, Tub & Shower Replacements, Ceramic Tile Installation & Repairs. Most Bathroom remodels will require the help of a plumber. Also remember to insure all materials used in the process. Water damage has been known to ruin bathroom remodeling jobs. Construction By Mirage can also correctly remediate any Mold found or water damage restoration needed.
---
What should I expect?
There are so many options when remodeling your bathroom that it can be overwhelming…but don't let that stop you. Once you're done, you will have a more functional room that will provide you daily comfort as well as potentially increase the value of your home. Next to a kitchen remodel, remodeling a bathroom provides the most significant increase in satisfaction of any remodeling project. Everyone wants a bathroom that is both convenient and beautiful. Going the professional route has always been proven to insure a successful and stress free bathroom renovation.
---
Bathroom Fixtures
For some time now the bathroom remodeling trend has been for larger bathrooms in order to make them more functional and with a greater degree of comfort. Separate showers and tubs are gaining increasing acceptance. The advantage with a separate tub is that it allows for greater freedom in selecting a tub. Whirlpool tubs are high on the list of fixtures to be added in a remodel; whirlpools are available in a range of sizes and can fit in corners of bathrooms where space is a constraint. Above-counter basins made from glass are not only functional but have a striking appearance. So call Construction By Mirage today and let's get started on your dream bathroom today.